Field Training

Campaign

Advance Campaign

War Room

CO Guide

Unit Guide

Damage Chart

Battle Mechanics

Concept Art

Downloads


Tutorial


Campaign


War Room


CO Guide


CO FAQs


Damage Chart


Game Mechanics


Unlockables


Concept Art


Downloads


Campaign


War Room


CO Guide


CO FAQs


Unit Guide


Skills Guide


Damage Chart


Game Mechanics


Combat Mode Guide


Survival Mode Guide


Unlockables


History Ranks


Concept Art


Downloads


Campaign


Trial Maps


CO Guide


CO FAQs


Unit Guide


Damage Chart (Print)


Concept Art




How To Play


CO Guide


Unit Guide


Damage Chart (Print)


Terrain Guide


Saturday, November 1st, 2014




Part 3: 1v1 maps with symmetry on a pivot point. (Also known as rotational symmetry.)




Previous Part Next Part



So, we're finally at the point where we begin the transition from symmetry to non-symmetry. Point Symmetry can easily give you the skills required to make non-symmetrical maps, and there is a technique that can be used that I will cover in the next part.

So how do you make Point Symmetry maps?

There are 2 elements, but they're easy to explain:

The Focus Point

The focus point is something important. It's basically the center of the map. Knowing what its size is crucial to making a good map. For example, if your map is 20 by ?, then the focus will be located at 10,? and 11,? (Note that ? just means any value.) If your map is 19 by ?, then the focus will be located at 10,?. This is very important, since a lot of Point Symmetry maps use a gimmick commonly known as "Rush to the Center", where there is some important item located in the focus.

Why is it important to know the size? Because... if you have a focus point at 10,? and 11,? , you can't put construction properties there. It will make it look ugly and it's redundant. You have no choice but to put cities or silos (And even then silos are pushing it). So be aware of your focus and its size. It can be a very important element.

The focus also lets you know where to put your tiles. Since we're not dealing with symmetry on an axis, it's harder to know where to put your tiles. But if you know a tile is located 4 north and 3 west from the focus, you know that tile should also be 4 south and 3 east from the focus.

Map Flow

What is map flow? It's very hard to describe. Take the following image (The towers represent the focus.):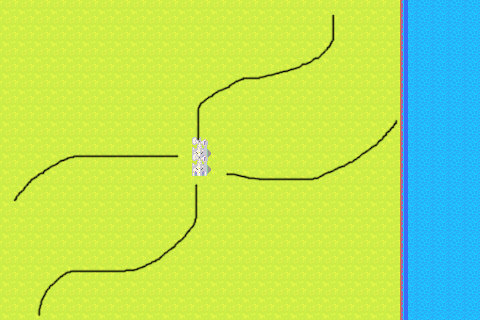 Notice how the lines expand. They all seem to expand in the same directions (NE and SW.) This makes the map feel... skinny. There's two patches of plains where the lines don't venture in. Now take this image:




By changing 2 lines, more surface is covered by the group of lines. Notice how it seems that the lines cover the entire map, even though they don't. This is a great trick to give your map more size.

Now to explain the process:

Step 0: Using the image shown above, I add some extra lines. These will be my roads. The towers will be changed later, as they only serve as a focus.




Step 1:

I place my roads. I use right angles to emphasize direction.




Step 1a: Now, I need to decide how to place rivers, since I want rivers.




Step 2: Here's the result. Unfortunately, this is extremely blocky. NO BLOCKS GRAAAARGH. So, to change it, I need to:

Un-straighten the rivers/roads
Add some sea to make the landmass less blocky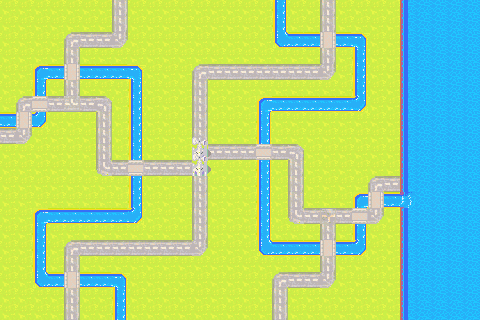 Step 3: Notice the awesomeness of the changes. Doesn't it look much better?




Step 3a: Now I start adding more elements to the map. What are my critical points(Covered in Part 0 and 1)? Where will my HQs be? Should I add more roads?




Step 4: Here is the final result. Note that I also added forests and mountains, despite the fact I didn't tell myself to do so. That is because these forests are designed to slow down movement and the mountains restrict it. Note that there are bases at critical points.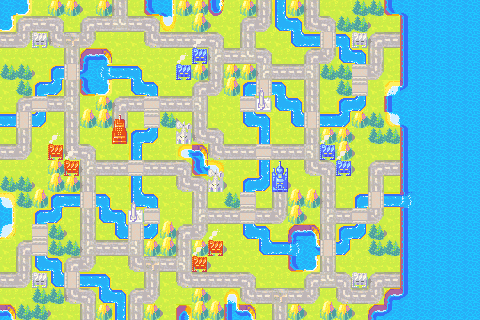 Step 5: Now I add Terrain Variety. Some shoals, forests and properties.




BUT! We can do better! Remember the technique I showed in the last part? Let's use it here!

Step 6: Note that a few forests have been changed. Also, it seems that the bases in the NE and SW corner are useless, since BM will obviously get the NE one and OS will obviously get the SW. No question about it. So let's spice that up.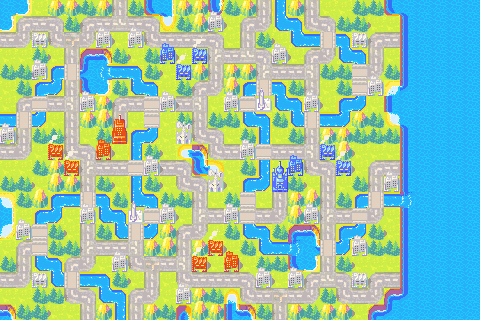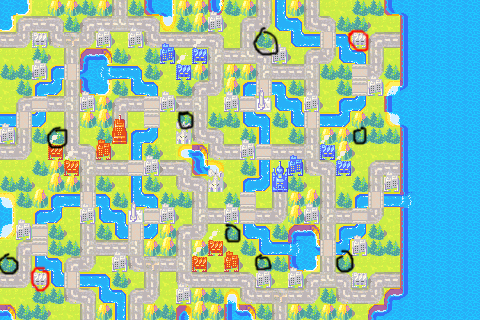 Step 7: Here is the final result!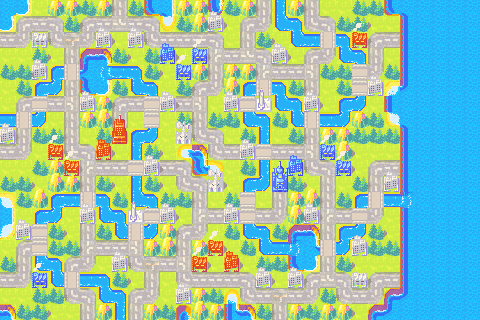 Previous Part
Next Part

List all polls


Contribute to WWN


10th Anniversary Articles



Xenesis


Linkman 145


HPD


thefalman


Dragon Fogel


DTaeKim