Field Training

Campaign

Advance Campaign

War Room

CO Guide

Unit Guide

Damage Chart

Battle Mechanics

Concept Art

Downloads


Tutorial


Campaign


War Room


CO Guide


CO FAQs


Damage Chart


Game Mechanics


Unlockables


Concept Art


Downloads


Campaign


War Room


CO Guide


CO FAQs


Unit Guide


Skills Guide


Damage Chart


Game Mechanics


Combat Mode Guide


Survival Mode Guide


Unlockables


History Ranks


Concept Art


Downloads


Campaign


Trial Maps


CO Guide


CO FAQs


Unit Guide


Damage Chart (Print)


Concept Art




How To Play


CO Guide


Unit Guide


Damage Chart (Print)


Terrain Guide


Friday, October 31st, 2014




Part 4: Asymmetrical Maps




Previous Part Next Part



Let's discuss the next step, now that we know how to make a symmetrical map (refer to previous tutorials), we will make an Asymmetrical map.

Yes, the notion of a non-symmetrical map may seem disturbing and impossible, but there is a simple method for generating countless maps that way.

DUM DUM DUM...

First, for those of who still afraid of making perfectly asymmetrical maps, I will cover a simple method to make a non-symmetrical map based off a symmetrical one. Since we've covered rotational symmetry, I will work with those.


Here, we have a base map for a symmetrical map. So let's make it non-symmetrical.

Step 1: Here, I've started curving the roads in a non-symmetrical fashion.




Step 2: Now, I unblock the mountains, yet again in a non-symmetrical fashion.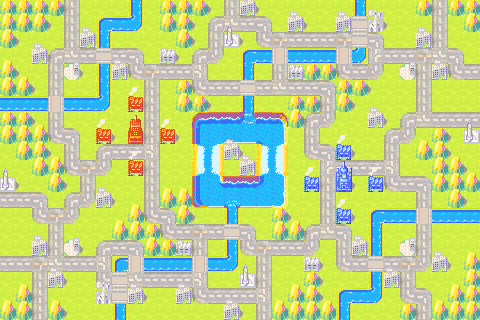 Step 3: Now I add the properties.




Step 4: I circle the properties I want to de-symmetrize (If that word exists :P)




Step 5: Here is the final result.




Step 6: Now I add some terrain.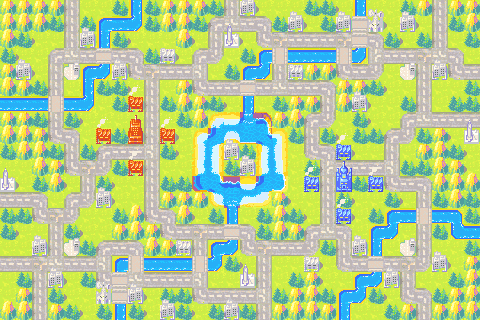 Step 7: Here is the finished version. TA-DA!




Now that we have that out of our way, let's tackle the real issue. Asymmetry. Why are people afraid of making asymmetrical maps?

Well, the first issue is balance. In symmetrical maps, balance is ignored because symmetry automatically takes care of that. If one country can grab that city in 1 day, the others can too. Obvious. But asymmetrical maps lack that simplicity. ANd that's where the fun begins.

The second issue is difficulty. It's easy making a symmetrical map, since you only have to fill half, or even a quarter of the map and then just duplicating it repeatedly. Asymmetrical maps are harder in that respect, since you have to work the entire map. BUT NEVER FEAR! It's in fact quite easy to do that!

Let's begin. I want to make an asymmetrical valley map with a river flowing through it. So here we go:




Step 1: I unblock everything. So I add some shoals for the river and make the mountains more natural.




Step 1a: Here, I decide the road formations and the HQ locations.




Step 2: Here's what it looks like.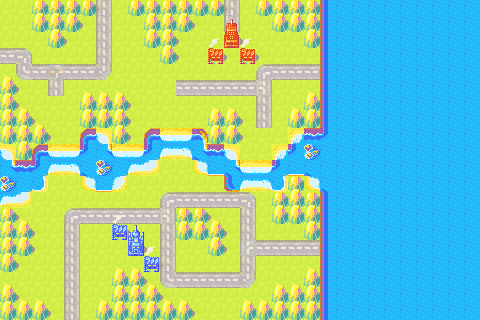 Step 2a: Now I need to know how the players can attack each other. I've higlighted the 3 main paths.




Step 2b: HERE'S THE IMPORTANT PART. I calculated the distance between the bases for each path, so that I can located the critical points. Unfortunately here, all 3 paths don't have critical points (Because they're even.) I'll have to fix that.




Step 2c: Problem solved.




Step 2d: Now I've calculated the distances of the path, located the critical points (In red) and located some extra critical points (In blue). There is a problem however, with the 2 rightmost critical points: BM has a easier time controlling them (They can use 1 tank to defend both at the same time, for example.) We'll have to fix that.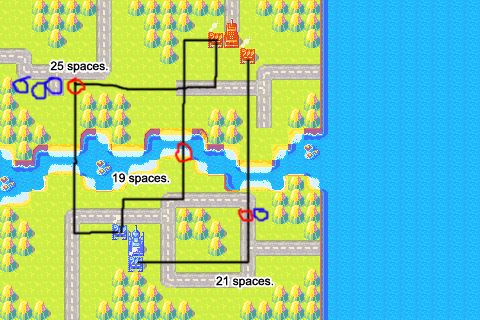 Step 3: I put something in the critical points to remind me that they are critical points. I also made some changes to the terrain to make it fit.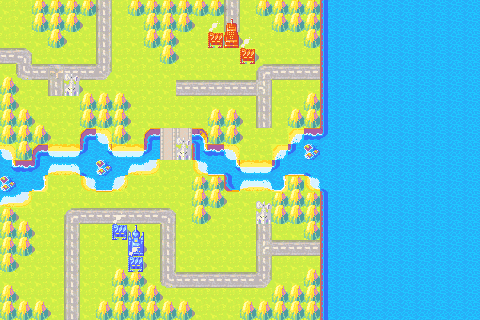 Step 4: Now I add some rivers because I feel like it.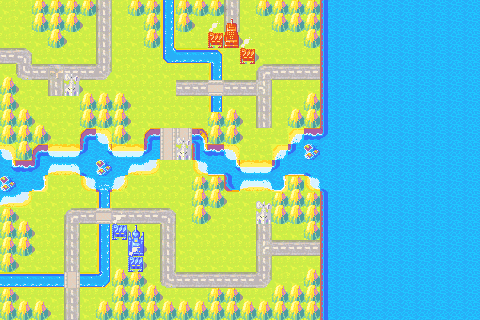 Step 5: I replaced the towers with silos and bases, and curved the rivers.




Step 6: Now I add some extra properties.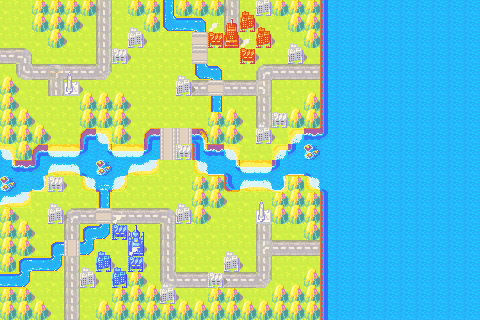 Step 6a: HERE'S ANOTHER IMPORTANT THING. I make sure all the properties are at equal distances for both countries. The analogous cities are color-coded, that is black trails are the same distance and blue trails are the same distance.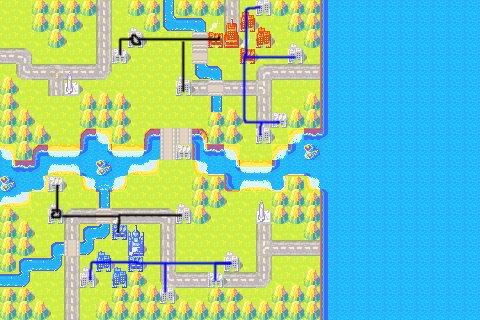 Step 7: Here's the final result, in all its glory...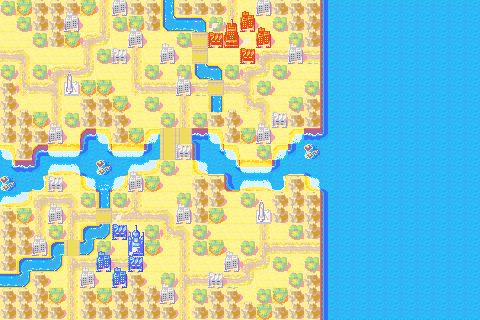 So let's recap a bit on how to make asymmetrical maps:

1. Layout the landscape, and shape it up.
2. Place the roads and HQs.
3. Located the various paths for each player and calculate the critical points.
4. Place the remaining properties, but make sure they're the same distances for each country.
5. Add Terrain Variety.

VOILA!



Previous Part Next Part

List all polls


Contribute to WWN


10th Anniversary Articles



Xenesis


Linkman 145


HPD


thefalman


Dragon Fogel


DTaeKim